Before the millennium, Franklin (2-6) had a feeder school named Pearson that housed K-2 students. Around 2006, Franklin absorbed Pearson's student population of kindergarteners through second grade to form the K-6 Franklin student body today. A Head Start and State Preschool facility resides on campus, off of Byron Lane. In 2019, Kindergarten went to a full-day schedule and Transitional Kindergarten classes were added. Our site piloted Universal Breakfast, Single-Gender, and countless educational programs over the years led by various administrations.
Originally established in 1871, MCS District office is in the original Benjamin Franklin School Building. In 1923, the 2-story brick building was built to serve elementary school-age children. In 1952, the building was converted into MCS Administration offices.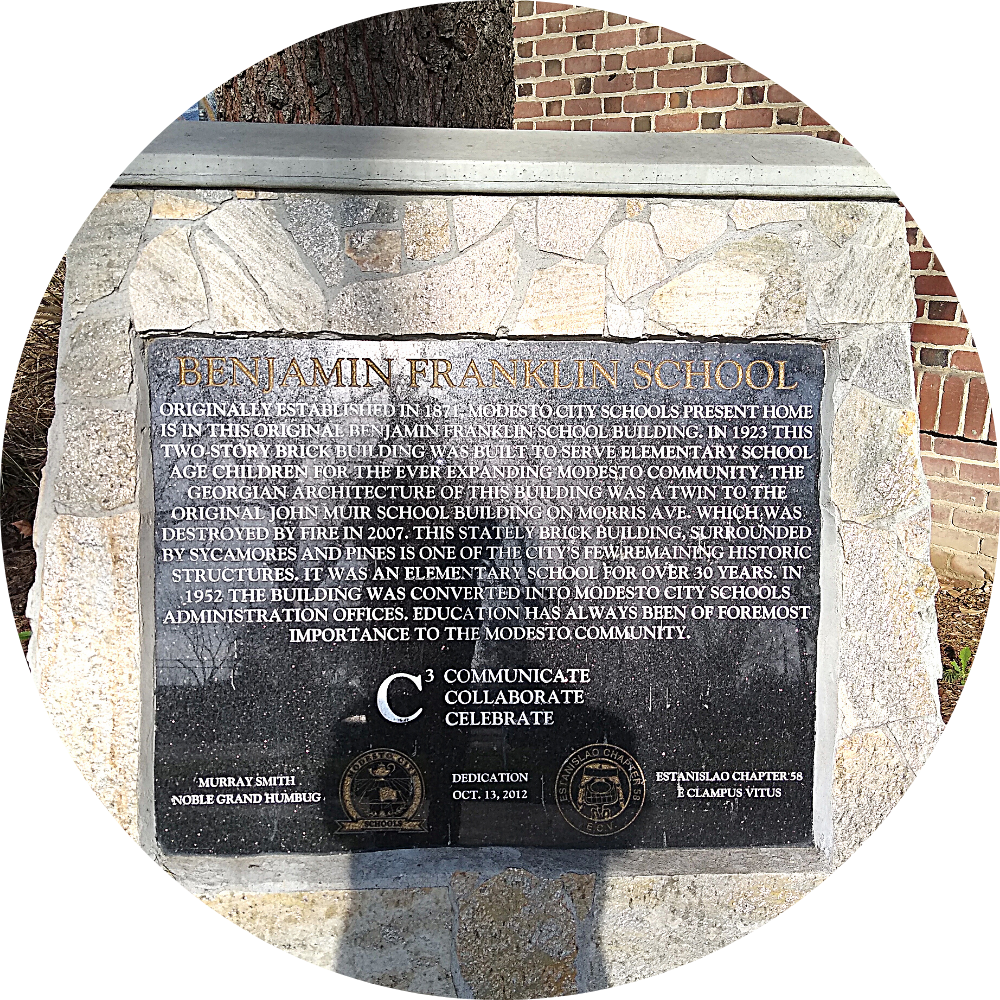 MCS Monument
Projected Upgrade – Proposed
In the near future, Franklin Elementary will begin transforming the 12-acre site with modern buildings. The present Franklin site inventory covers about 56,431 square feet (existing). The future site has plans for two parking lots, multipurpose room, and modernizing existing buildings (proposed).
May 2022 – Groundbreaking of Phase I is scheduled during the 2022 summer.
Phase I will consist of the following:
Relocation of buildings on the north side of campus adjacent to Maze Boulevard (from the Library to Room 36)

Construction of a new parking lot and student drop-off area on the corner of Maze Boulevard and Emerald Avenue

Construction of new Multipurpose Room/Cafeteria near Maze Boulevard

Create a new Bus Loading/Unloading Zone in front of the school on Emerald Avenue
As of September 2021, MCS Elementary enrollment has decreased. Franklin Elementary is projected to enroll a total of 759 students ranging from TK to 6th grade. The total includes MVA students. This makes Franklin the 2nd largest of our MCS Elementary Schools.