The Franklin School Site Council (SSC) is composed of the principal, classroom teachers, school personnel, parents, and community members. Together, the SSC focuses on all student needs and the vision of Franklin Elementary School.
The School Site Council meets on average six times per school year.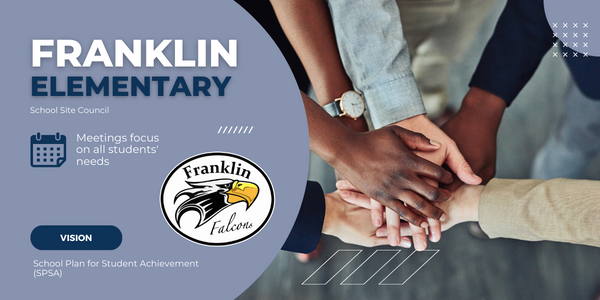 School Site Council
Time: 3:00 – 4:00
Location: Room 11
Dates
Monday, September 19, 2022 (Agenda)

RESCHEDULED for next Monday, September 26, 2022
The School Site Council is made up of the following 10 members with their term expiration date listed in parentheses:
Catherine Mullins, Principal (permanent)

Avery Seekford, Teacher (May 2023)

Maria Uvina, Teacher (May 2024)

Julia Ramos, Teacher (May 2024)

Dina Brambila, Other Staff Member (May 2024)

Ofelia Castaneda, Parent (May 2023)

Angelica Zamora, Parent (May 2024)

Mayra Valencia, Parent (May 2023)

Patricia Padilla, Parent (May 2024)

Monica Alvarado, Parent (May 2024)
English Language Advisory Committee
ELAC is responsible for the following tasks:
Advising the principal and staff in the development of a site plan for English learners and submitting the plan to the School Site Council for consideration of inclusion in the School Plan for Student Achievement.

Assisting in the development of the schoolwide needs assessment.

Ways to make parents aware of the importance of regular school attendance.

Each ELAC shall have the opportunity to elect at least one member to the District English Learner Advisory Committee (DELAC).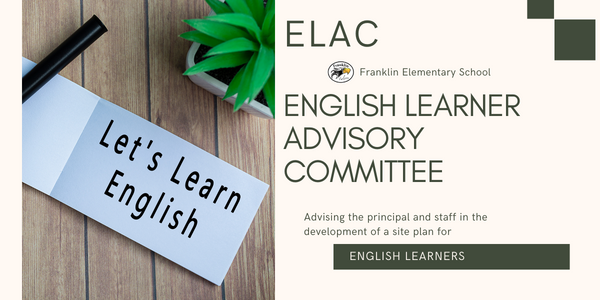 English Learner Advisory Committee
Time: 10:00 AM
Location: Room 36
Dates